"Tropical Paradise in San Diego!" Location is fabulous as are the accommodations, amenities and pool/patio area! Linda and Norm were the best hosts; we felt like family. We went with another couple and the four of us are already planning another trip (longer) to enjoy the Beach Hut's relaxing atmosphere. With just two rooms total we had a private BandB for the four of us. Evenings by the fire pit and breakfast by the pool each morning felt like being in Hawaii and since they are located in a mostly residential neighborhood, it was very quiet and calming. Close to Sea World and the San Diego Zoo but access to Mission Bay is right across the street which is great for strolls on the boardwalk. Great restaurants close by. Green Features: Green practices were obvious which we appreciated!
A Beautiful, Relaxing Bed and Breakfast in Pacific Beach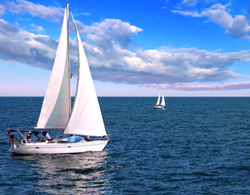 Award Winning Mission Bay Park
The 4200-acre Mission Bay Park, the largest man made Land/Aquatic Park in the country, has 26 miles of Bay-front and 17 miles of Ocean-front Coastline/ Beaches
Sport enthusiasts enjoy miles of Boardwalks for Biking, Walking, Rollerblading and Jogging.
Designated Sail Bay water areas are for Sailing, Wind Surfing, Stand Up Paddle Boarding, Kayaking or Motorized Boating.
Stroll the Boardwalks to enjoy Spectacular Sunsets, and hit the Ocean Waves for Surfing or Boogie Boarding.
Great dining, shopping and more within easy walking distance.
Check out our blog for more dining and local activities while staying with us at the Beach Hut Bed and Breakfast on Riviera Drive in Pacific Beach.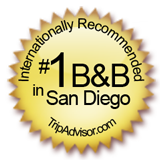 San Diego's Best Bed & Breakfast
Uniquely located at Sail Bay in Mission Bay Park and nestled between La Jolla and Downtown, the Beach Hut Bed and Breakfast is a conveniently located destination for everyone from Business Travelers to Vacationers and Honeymooners.
For a truly 'Southern California Experience', the Beach Hut Bed and Breakfast is The Best Place to spend your next visit to San Diego.
Innkeeper/Owners Norm and Linda will warmly welcome you.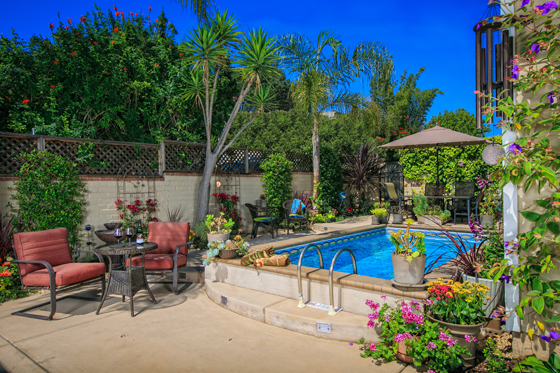 Exclusive Amenities
Beach Hut B & B provides a host of amenities you won't find at any other Bed & Breakfast in San Diego including:
Located in 4200 Acre Mission Bay Park
Private Exterior Entrances
Free On-Site Reserved Parking
Free WiFi
Eat when you are ready in the morning with breakfast food stocked 'Good Morning Kitchen'/In-room Dining Table and Chairs
Granite/Travertine Private Bathroom
In- Room Climate Control for Central AC/Heat
LCD TV with All H.D. & Premium Cable Channels
Faux Fireplace
Saline Pool & Marble Fire Table on Professionally Landscaped Patio
Settees and umbrella dining tables on the patio.
Park in your free Reserved on-site Parking Space, enjoy complimentary Wireless Internet and relax Poolside or at the Fire Table on the Professionally Landscaped Patio.