Visit the Del Mar Racetrack
The Fair is over, now get ready to go to the races July 18 – Sept 3 2021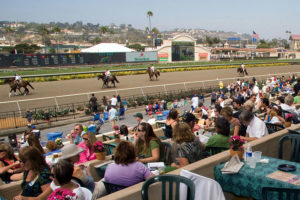 Venue: Del Mar Racetrack REGION: NORTH COUNTY COASTAL
San Diego horse racing takes place where the "turf meets the surf" at the Del Mar Racetrack. Fans flock to the track each summer to wager on their favorite horses during the popular, annual Del Mar Thoroughbred Club racing season.
Visit www.dmtc.com for more information about racing schedule.
You can stay the the Beach Hut bed and breakfast for any of these events, nice place to get away.