Summer in San Diego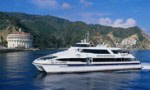 Greetings from Linda at Beach Hut Bed and Breakfast. San Diego is a great place to live all year round, but the summertime is especially magical. I am fortunate enough to live on Crown Point in the 4200-acre Mission Bay Park, which is the largest man-made land/aquatic park in the United States, and has 26 miles of Bay-front and 17 miles of Ocean-front coastline and plenty of beaches.
I have plenty of activities to choose from here in the park all year round such as jogging on the boardwalks, bike riding, surfing, sailing, stand up paddle boarding, buggy boarding and on and on. But it takes on a whole knew meaning when the Sun hangs longer in the sky and the ocean water begins to warm up and the summer crowds arrive.
There is an energy that abounds here in San Diego that is hard to explain and wonderful to experience. The dolphins seem to jump higher in the waves, the outdoor cafes and restaurants are vibrant with activity and the tanned bodies seem to have broader smiles on their faces! The fog bank doesn't roll in from the Ocean during the summer, the Sunset is more brilliant over the Ocean, and the Pacific warms up for more enjoyable scuba diving and snorkeling. I think it's even easier to see the Green Flash in the summer!
For a truly 'Southern California Experience', you've got to go to the Beaches in the Summer in San Diego. The Tourist Attractions are fun, but you can't beat the Beach!