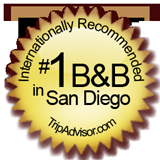 We are proud to announce that the Beach Hut Bed and Breakfast has received a
TripAdvisor Certificate of Excellence Award for 2013 and has been rated as the #1 Bed
and Breakfast in San Diego. The Certificate of Excellence accolade, which honors
hospitality excellence, is given only to establishments that consistently achieve
outstanding traveler reviews on TripAdvisor, and is extended to qualifying businesses
worldwide. Only the top-performing 10 percent of businesses listed on TripAdvisor
receive this prestigious award.
To qualify for a Certificate of Excellence, businesses
must maintain an overall rating of four or higher, out of a possible five, as reviewed by
travelers on TripAdvisor, and must have been listed on TripAdvisor for at least 12
months. Additional criteria include the volume of reviews received within the last 12
months. We thank our many satisfied Guests for sending in their Reviews to
TripAdvisor and for sharing their wonderful experiences here at the Beach Hut B & B.
We are a Five Star Rated B & B because of you!